This past weekend the Hubby and I were apart of another wedding. The 3rd in our 9 month series. The final couple in our trio of High School Sweethearts got married. My Husband was the Best Man and I was a Bridesmaid.
The weekend was supposed to be a rainy hot mess but it turned out to just be hot! We were hoping for no rain and our wish was granted!
The girls started the morning off at the hair salon. We arrived and ate a yummy spread of bagels and mimosas and moved on to hair. We all received updos after our hair was curled. They were very pretty and comfortable and perfect for the hot day ahead. The bride also had an updo but hers was slightly different. She also included a rhinestones clip in the back to tie the look together.
After hair we all did our makeup. The bride wanted our eyes to be a mix of pinks and browns. I used this trio from Wet N Wild (HERE) and it worked great! I then applied some false lashes to complete the look (HERE). We then made our way over to the Bride's house to get into our dresses and see the Bride for the first time in her dress.
Our dresses were Navy knee length strapless lace numbers from David's Bridal (HERE). They were so cute and I can't wait to wear mine again! The night before, the Bride gave each of us an Alex and Ani bracelet, my first, to wear (HERE). The bride's cousin made our necklaces as well as the brides and they were STUNNING! Check out her Etsy shop (HERE).
Finally after we were ready it was time to see the bride. She emerged in a beautiful tulled strapless gown with a rhinestone belt. It was such a princess moment! She had on a multistrand pearl necklace and looked absolutely beautiful! She also wore lace TOMS shoes that I thought were perfect (HERE).
We all then made our way over to the venue. The ceremony was to be held outside under an arch covered in flowered vines.
The reception was being held inside a barn with access to the outside where yard games like Jumbo Jenga, Cornhole and Connect Four were set up. There was also the cutest vintage trailer turned bar outside on the patio.
The groomsmen wore linen colored suits with navy vests. It was too hot to wear the jackets though so they just wore their vests. Their boutonnieres were mini versions of our bouquets. The flowers were a mix of white, orange and hot pink which popped perfectly against our navy dresses.
The décor inside included navy and white striped table runners, and ribbon lanterns made by the bride. The food was a delicious mix of pulled pork, mac and cheese, and green beans. Once we all made our entrances and ate it was time to dance and drink!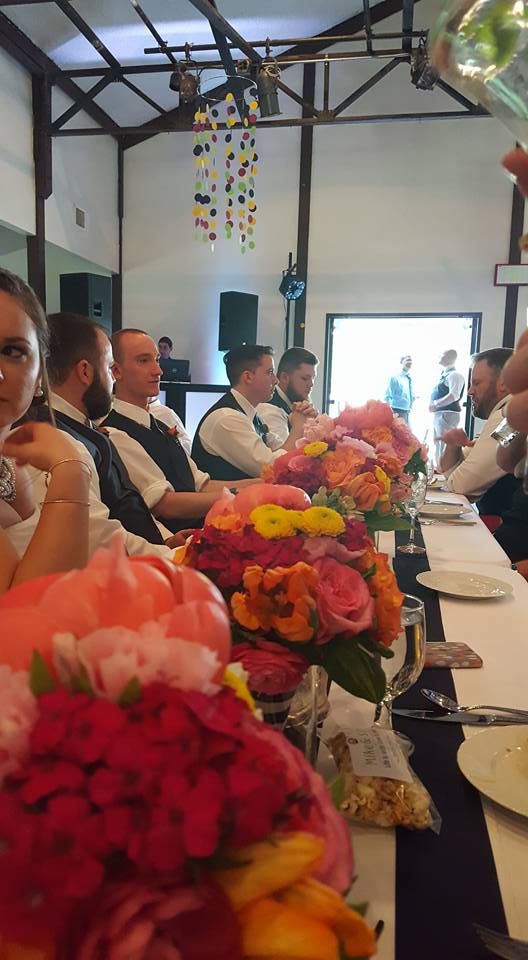 Overall the wedding was so much fun and beautiful! The day turned out great and I can't wait to see the professional pictures!
Now the Hubby and I can have a much needed break from being in weddings :P