Hey Guys!
Wet N Wild has released a few new products for spring that others have been raving about so I wanted to give them a try! They released a few new things from their Photofocus line such as a foundation, powder and concealer as well as some Liquid Lipsticks. Check out my video below for mini reviews of the products. Under the video I give more in-depth reviews as well as pictures and swatches with direct links to the items. Enjoy!
I will talk about the face products first. My skin is oily and I have large pores on my cheeks. I get the most oil on my nose, cheeks and chin so I look for products that are long lasting, matte, medium-full coverage and just make my skin look smooth and perfect.
The new face products were tested under 7 light situations to help create a smooth flawless matte finish. The products contain light diffusing pigment to be "#selfieready" and aren't supposed to give off a white cast. Here are the 7 light conditions the products were tested under according to Wetnwild.com:
Clear Blue Sunlit Sky

Outdoors PM

Indoors PM

Electronic Flash

Fluorescent Light

Bathroom Light

Nightclub Light
The first product I tried was the Photo Focus Foundation in the color Shell Ivory and this retails for about $5.99. It has a spatula applicator that helps me put product on the back of my hand. The texture is like a mixture of liquid and cream. It is on the more watery side. I tried applying this with a Beauty Blender and an Artis like brush. Both ways applied about the same. The product gives a light medium coverage and is semi build able. I can still see some discoloration peeking through but not much. This feels a bit heavy on the skin as the day goes on as well. I would also like to point out this smells exactly like wall paint. The smells is very strong and a little off putting. If you are sensitive to smell I wouldn't recommend picking it up. After applying the foundation and before applying powder or concealer I took a picture with the flash on my camera. As you can see in the pictures below I had MAJOR flashback. This was super disappointing to me as they basically promise no flashback. I wouldn't mind flash back or white cast since I rarely go anywhere and take flash pictures but the fact that they market it as no white cast made me super disappointed. As for the wear throughout the day I noticed on my cheeks as the day went on it got really ruddy looking and didn't sit well on my face. Overall I personally wouldn't recommend this product. I know people that have super oily skin and love it but not me. If you want an inexpensive drugstore foundation I would HIGHLY recommend the Elf Flawless finish foundation for $6.00. Check out the Wet N Wild HERE.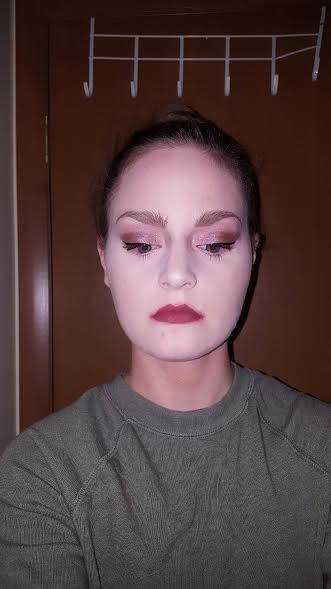 Next I used the PhotoFocus Pressed Powder in the shade Warm Light which retails for $4.99. This is a powder that helps diffuse the light, mattify skin and keeps it shine free all day. I have used this product over the PhotoFocus foundation and my go to Elf foundations and love it! It doesn't give off much pigmentation when you first run your powder brush over it but after a couple swirls it picks it up. I like to dust this all over my face to set my makeup and pat it into my nose and cheeks where I get oily the quickest. This makes my pores INVISIBLE and leaves my skin with a smooth matte/satin finish. I have also noticed since using this I don't get oily as quickly. I HIGHLY recommend giving this a try. Plus for the price you can't beat it! Check it out HERE.
The final face product I tried was the PhotoFocus Concealer in the shade Light Ivory which retails for $3.99. This is supposed to be a high coverage creamy concealer and I heard it is comparable to the NARS creamy concealer which I have never tried. I use this product on my blemishes and redness on my face as well as under my eyes. I wish they had a lighter shade for under my eyes to help brighten them. The lightest color is the perfect match for my skin and doesn't look bad under my eyes but I would like a little brightness. Besides that this concealer is AMAZING! It is super creamy, high coverage and blends like a dream. It isn't full coverage as a tiny bit of discoloration can show through but not much! It also doesn't get cakey as the day goes on as I have found with other high coverage concealers. It is also super pigmented so a little goes a long way. It also works well under my eyes. It blends like a dream and provides the perfect coverage and doesn't crease throughout the day! If you get 1 thing from this line I recommend the concealer. It is the best drugstore concealer or any concealer I have ever tried and the price is a STEAL. Check it out HERE.
Now on to the lips. I picked up 3 of the Megalast Liquid Catsuit Matte Lipsticks in the colors Give Me Mocha, Berry Recognize and Video Vixenwhich retail for $4.99. After filming I also picked up the colors Rebel Rose and Nice to Fuchsia. These promise a lightweight matte formula, that don't dry out lips. The packaging is almost IDENTICAL to that of the Jeffree Star Liquid Lipsticks which is crazy. The want has a little divot in it that is perfect for getting that crisp line. The formula is very comfortable and long lasting through light eating and drinking. If you eat something that is oil based or super greasy it will take the color off but if you eat things that don't brush against the lips this will last all day. The colors are super pigmented and comfortable! I did have a patchy problem with Video Vixen though. If you layer it over a lipliner it should help. I can't wait for them to release more colors in the collection. I HIGHLY recommend you go pick them up. If I had to choose 1 color that I own as my favorite it would be Give Me Mocha. It is the perfect nude that could flatter so many skin tones. Check it out HERE.
Overall I think Wet N Wild are really stepping up their game. They have been releasing a ton of products lately at a low price point but are high quality! Did I mention they are vegan and cruelty free? I can't wait to see everything that is coming out in the spring/summer months. Good thing their products don't break the bank! Check out the full collection HERE.