Hey Guys!
I have been hearing a lot about Lularoe lately. I see friends all over Facebook posting about what they receive and what they have and I was always intrigued about the process so I met with Lularoe Sales Consultant Jennifer who let me try on as many pieces as I could so I could review the fit, feel, and sizing! If you are like me and have always been curious about Lularoe then please read on. Check out the AMAZING pieces that Jennifer has HERE. She runs a TON of sales and promotions and you can get a discount on ALL products bought through her with code "channing20". To use the code all you have to do after purchasing an item is send Jennifer a message and mention the code. Check out my Haul video below and in depth reveiws and styling pictures below.
What is the first thing that comes to mind when you hear the word Lularoe? For me, it was leggings. I see so many people on my social media platforms posting about how comfortable they are, how great the patterns are and how stretchy they are! I wanted to see for myself so I chose a black pair covered in tiny stars, a black pair with a cream and red design, and a purple pair with a colorful floral pattern. Now let me just say I am a leggings girl! I wear them at least 3 days a week and am always on the hunt for my next favorite pair. The sizes that these come in are OS (one size or 2-10) or TC (tall curvy or 12-22). I am normally a size small/ size 4 so I tried on the OS.
Let me tell you I honestly have never felt leggings like these! They are super soft, stretchy and feel like wearing almost nothing, (in a good way). They didn't hug too tight because the stretch was so great but they also didn't sag in any unwanted areas. I didn't want to take them off! I highly recommend getting your hands on a pair! I have been wearing mine to work for a couple weeks and they feel like soft pajama pants that you can wear in public! Also at the end of the day I don't have line from seams running up and down my legs that I get from other brands. Jennifer runs AMAZING sales for leggings on her page such as Leggings Specials Live Sales, Mystery Box Sales and so much more. Don't forget to combine the sale offer with the code "channing20" HERE.
In order to get a full grasp on everything Lularoe has to offer I felt like I needed to try on as many different styles as possible. I tried on everything from maxi skirts that double as maxi dresses, skirts that triple as scarves and tube tops, dresses, cardigans, tunics, tees, and so much more! I never knew Lularoe had so much variety! They also have patterns for everyone! The cool thing about Lularoe is that each seller gets different items in different prints so you never compete! I thought this was such an interesting concept! If you want to learn more about becoming part of Jennifer's Lularoe team check it out HERE.
The other cool thing about Lularoe pieces are how versatile they are! Jennifer showed me how clients would layer Perfect or Classic tees over the Amelia and Julia dresses and knot them at the waist to create a whole new look! I love that idea! I always try to get as much bang for my buck as possible and I love that Lularoe promotes layering and versatility!
My favorite items and the ones I chose to go home with were the Randy baseball tee, Amelia dress, and the 2 Irma tunics but trust me, and 2 Perfect T's. I wanted so much more!
The Randy tee is cool because it is unisex and super comfortable! The one I got has a grey body and blue and a blue and red sleeve pattern. I got mine in a size S.
I would wear this with skinny jeans, boyfriend jeans, or cute denim shorts! I love that the tees either have a solid body with patterned sleeves, solid sleeves with a patterned body, or patterns on both sleeves and body! It is such a classic look that never goes out of style! I would also dress up the higher neck with a beautiful bibbed necklace! So many options! I could live in this forever! Check out my styled look below.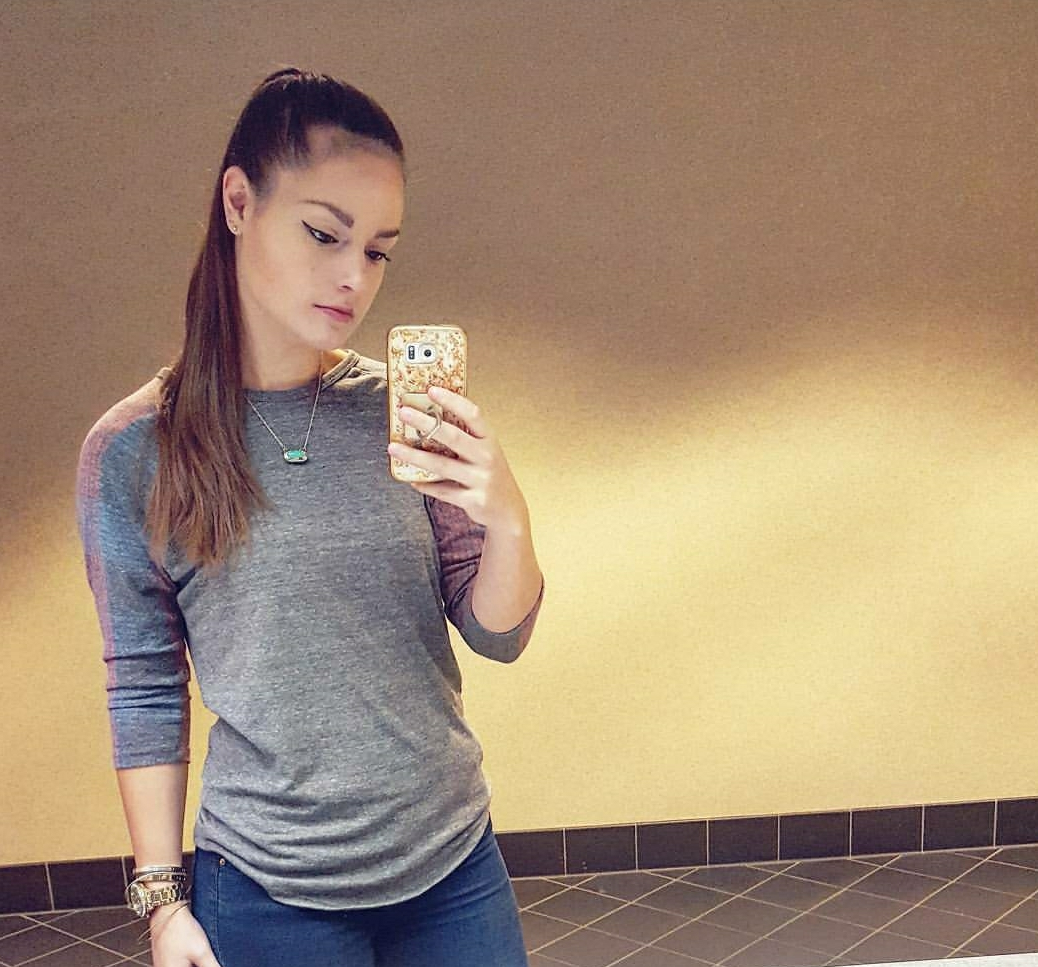 The Amelia dress I chose is a dark blush color with a beautiful printed pattern.
It also has a silver exposed zipper in the back that adds a great detail. Jennifer showed me how the dress can be worn backwards or forward. I love that! It makes the piece so versatile and like you bought 2 dresses in 1! I got mine in a size XXS.
Also did I mention it has pockets? Honestly I think all dresses should have pockets! I love that the top is fitted and cinches in at the waist and then flares out at the bottom. This is a style that flatters most body types and also isn't too revealing which I like. Checkout how I styled it below.
I also picked up 2 of the Irma Tunic tops. One is more of a polyester sturdy material in a blush floral pattern and the other is a more cotton like and is grey with tiny stripes. I got mine in an XXS.
I love that it is high low so it is PERFECT to wear with leggings! My favorite look is leggings matched up with riding boots in the fall and a jean jacket thrown over or with ballet flats and arm candy in the summer! So versatile and comfortable! Check out how I styled it below.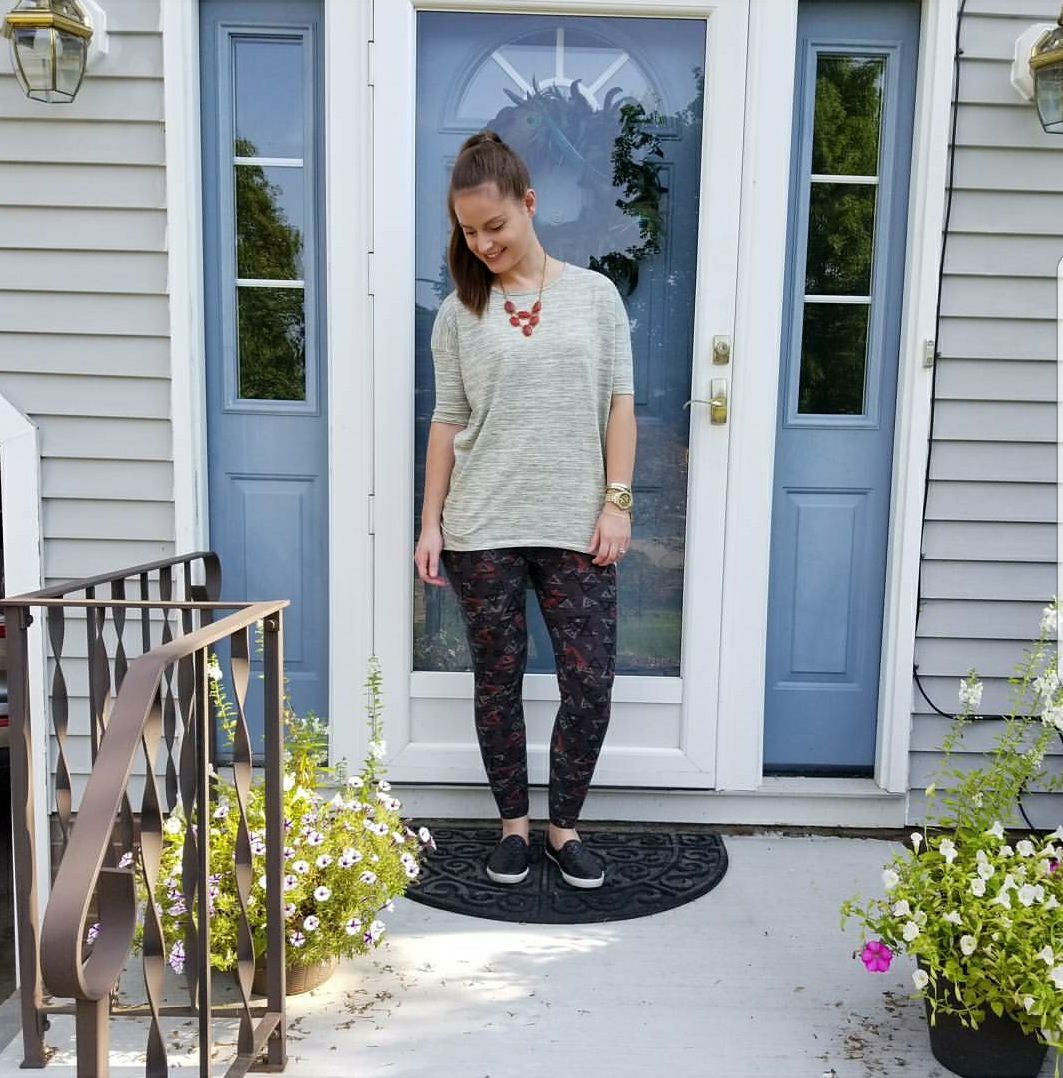 The last 2 items I got were Perfect T's. I got a pure white one and a baby blue one in sizes XXS.
These are very similar to the Irma but not quite the same. The arms are a bit different and these fit more casually. I love to wear them either with leggings and a cute scarf or you can tie up one side and wear with your favorite skinny jeans! So versatile! See how I styled them below!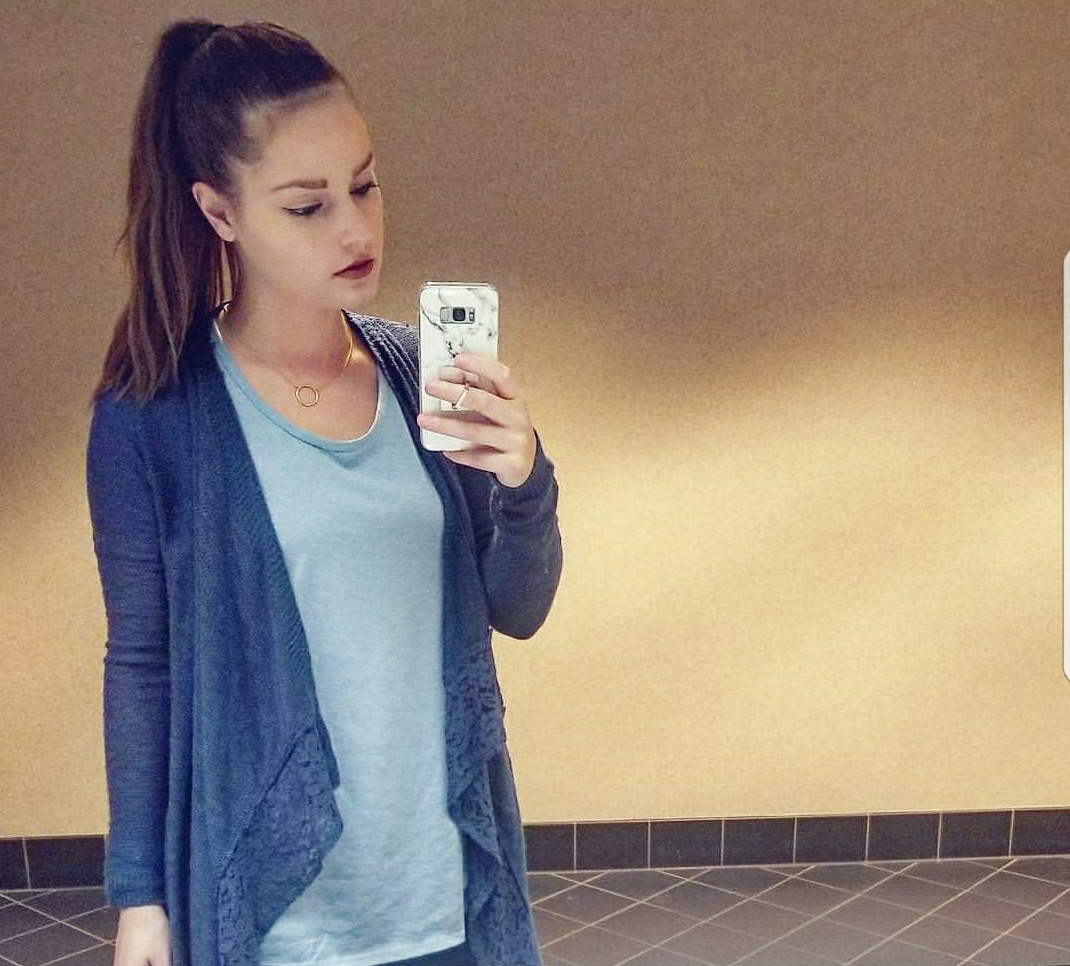 Overall I am hooked and can't wait to purchase more Lularoe items! I was pleasantly surprised that the items and variety didn't disappoint me. I am constantly watching Jennifer's live sales ready to snag up some more goodies! Make sure you check out Jennifer's shop HERE and mention code "channing20" to get special pricing!
What is your favorite product from Lularoe? What should I try next?